Wedding Hairstyles for Short Hair
Here's the scenario: You are getting married soon, you're getting in shape, you've got your dress all picked out and of course you want to look amazing on your big day. But you start clicking through hairstyles and they're all long and flowy, or intricate updos. What to do if you're a short haired gal?
There are plenty of options for styling your hair, whether you're rocking a bob or of the pixie persuasion. Keep reading to see how you can still turn heads, no long hair required.
If your hair is currently pixie to chin length or has too many layers to hold in a decent pony tail, then you may want to leave it down. You can make the look as natural or sophisticated as you'd like.
Play the part- Changing the part in your hair can actually make a big difference. How do you usually wear it. Try styling it in the other direction. Try a middle part. See which one gives you the biggest wow factor.
Sleek it out- Flat iron that baby. Never underestimate the power of straight hair, especially if you usually wear your hair curly or wavy. Make sure it is all in place, no flyaways or strays, and make it GLOSSY. This will take your wedding style up a few notches. If you're donning a side-part that day, tuck the shortest side behind your ear.
Curl up the volume- Go all out and wear that bob nice and curly. Don't be afraid to rock the curls on short hair. Done right, they have a beautiful vintage vibe and can look as romantic as wavy updo or a classic bun. You'll definitely want to part your hair to the side with this look to up the glamour factor.
Accessorize- Never underestimate the value of a good headpiece, brooch or headband. For a pixie cut, this is actually one of the best options, since your hair may still be TOO short to part one way or the other or to play with the texture. A beautiful headband will play up your facial features and can either compliment or contrast your dress (both are great style options).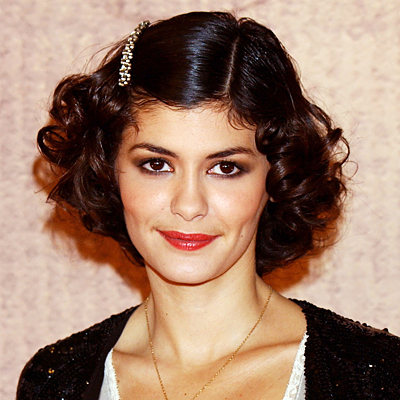 If you're parting  and tucking your hair to the side, add a glamorous vintage brooch on the tucked side. It's decorative and functional since it will keep that side from moving around or going anywhere.
Take a cue from British Royalty and wear a fascinator. Make it as tame or bold as you dare. This is your day!
If you're not too keen on wearing something on your head, focus on playing up your makeup to highlight your best features. Show off your pearly whites with your favorite shade of red and big, doe-eyed lashes. Bring out your cheekbones with pink blush and pink lip gloss. Give yourself a come-hither look with a daytime smoky eye and nude or peach lips.
Just because your hair is short does not mean you are out of options. Be creative, take a couple risks and have fun! And most importantly, come to Theory Hair Salon for the most relaxing, pre-wedding hair experience.